Millions of children around the world suffer from severe spinal deformities. Working in the orthopedic industry, we are all dedicated to bringing advanced products and quality care to patients. In the US, this focus of care includes children with a broad variety of orthopedic and spinal pathology. Unfortunately, in many places outside the US, this is not the case for many children.
This holiday season, the team at ImplantBase is asking our community to join us in supporting and donating to SpineHope, a 501(c)(3) nonprofit organization dedicated to bringing advanced spinal care to children in under-resourced areas and providing them with a chance at an improved quality of life, reduction of pain, and when possible, prevention of paralysis.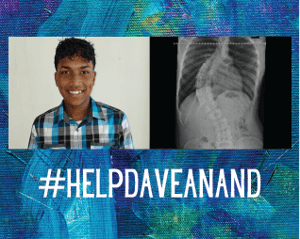 "Spine surgery would mean everything to me and my family because I would feel like a normal individual again and perhaps could then be able to pursue what I love, to be a professional Cricket player," said Daveanand "Dave" Khemraj, a 17-year old teenage boy from The Republic of Guyana, South America.
SpineHope was founded in 2008 by pediatric spine surgeon Matthew Geck, MD, and orthopedic/spine industry veteran, Ethan Lauer. The objective of their mission was to facilitate ways in which the orthopedic industry and medical community could serve children with spinal deformities. Dr. Geck and many others have donated their time and their talents to treat and correct spinal deformity in children residing in under-resourced communities around the world, and to educate and assist the families of those children. And with your support and tax-deductible donation, more impact can be made to help these children have a chance at a better quality of life.
"So far, we have helped hundreds of children through mission trips with US based teams working alongside host country medical staff. We've also built a sustainable pediatric spine program in Costa Rica that empowered local surgeons to independently clear over 150 children from their waiting list," said Dr. Matthew Geck, MD. "Our work is really just beginning as there are many more places where our care isn't available to children. Donations are the life-blood of our program and ability to continue our mission."
"Like many of you, everyone at ImplantBase is grateful this holiday season for our health and wellbeing, we realize our good fortune in contrast to many around the world who struggle with health issues," said Ethan Lauer, ImplantBase's CEO. "This year, with everything going on, our team wanted to pay it forward even more by pledging to raise funds for SpineHope and help children with spinal deformities have an opportunity at a more normal life."
Please join us and donate today to help children with spine deformity have a chance at a little more normal and less pain life. Your donation is tax deductible.
To learn more about SpineHope including how to volunteer, click here.
To learn more about how ImplantBase can offer your supply chain ecosystem complete inventory visibility, even while out in the field, click here.
Thank you in advance for your support and everything you do to help our communities.